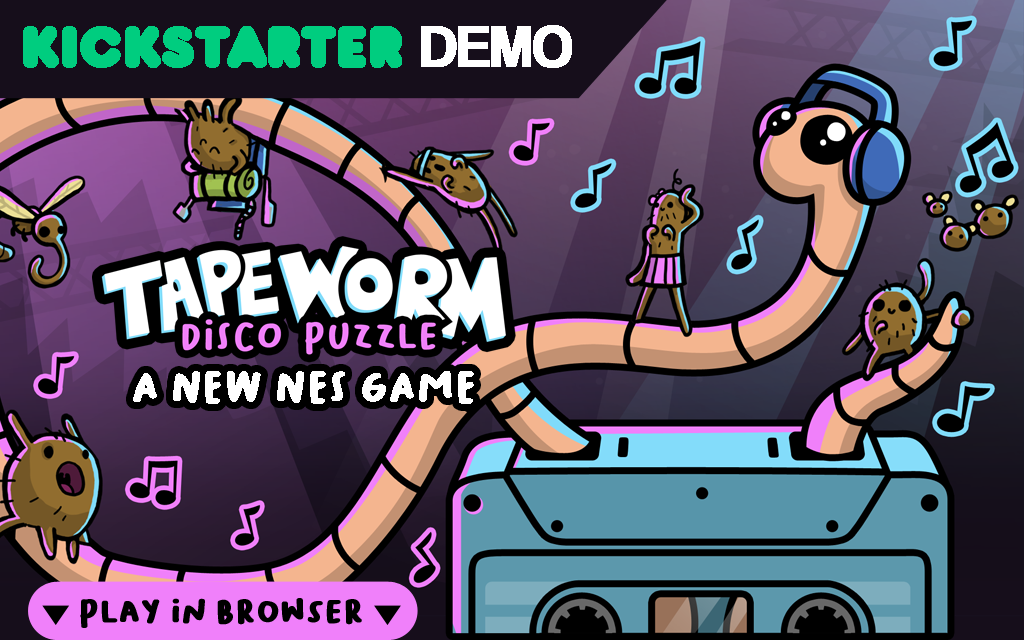 Tapeworm Disco Puzzle Demo
Web Controlls:

Arrows = Moment | Enter = Start | Z = A (Reel in worm)

Get it Physically NOW on NES or Dreamcast
https://www.etsy.com/uk/shop/LowtekGames

Full Game here:
https://lowtekgames.itch.io/tapeworm-disco-puzzle

This is the demo for the upcoming Kickstarter Campaign found here.
https://www.kickstarter.com/projects/flea-game/tapeworm-disco-puzzle
Tapeworm puzzle disco is a grid based puzzle game where you play as a tapeworm; the local night club owner. It's your job to make sure the feas enjoy themselves. You'll be helping them collect blood, play bangin tunes and get them to gigs on time.
Each level has an objectives and obsticles like:
-Avoid enemies
-Don't kill the fleas
-Collect all the notes
-Help the fleas collect the blood
-Open Doors witch switches
-Help Fleada get to the gig on time (fleada is a cat walk model)


Art/Design: Alastair Low
Programming: Valdir Salgueiro
Music: Tuï

The game is being created for the NES but will be available fore NES, Dreamcast and PC through the kickstarter.
Please note that the web emulator has a few issues with sound and overscan. If you would like to play on your preferred emulator the NES ROM is available below.
Presskit can be found here:
http://lowtek.co.uk/press/sheet.php?p=TapewormDiscoPuzzle